Zebronics Zeb-BTM9800RUCF 200W RMS bluetooth tower speaker | Karaoke compatible | BT | USB | AUX | TV HDMI ARC | optical in | Coaxial IN
Rs. 27,999.00

Rs. 27,999.00
---
---
Zeb-BTM9800RUCF BT v5.0 / AUX / FM / USB / SD / Optical / TV (ARC) / Coaxial IN tower speaker. Karaoke Compatible

MRP: Rs. 27,999.00

Note:
Kindly give your support to INDIAN E-commerce site for survival in competition with INTERNATIONAL SITE. You can call us on 9650722798 for placing an order for Zebronics 9800 tower speaker.
Zebronics Zeb- BTM9800RUCF Bluetooth Tower Speaker offers 200W RMS of powerful sound with multi-connectivity options including Bluetooth, USB, AUX, TV HDMI ARC, Optical IN and Coaxial IN. Compatible with karaoke, enjoy crystal clear sound with distortion-free performance.
Features
| | |
| --- | --- |
| | 2.0 channel Tower speaker |
| | BT v5.0 / AUX / FM / USB / SD / Optical / TV (ARC) / Coaxial IN |
| | LED display |
| | 2 x 25.4cm Subwoofer |
| | 3 way Design |
| | Remote control |
| | Karaoke |
| | Dual UHF wireless mic |
| | Touch Control |
Specifications
 
Output Power (RMS) 

200W (100W + 100W)
 
Driver Size


 
Subwoofer

25.4cm x 2
 
Mid

16.5cm x 2
 
Tweeter

7.6cm x 2
 
Impedance


 
Subwoofer
4Ω
 
Mid

4Ω
 
Tweeter

12Ω
 
Frequency response

40Hz- 20kHz
 
S/N Ratio

≥75dB
 
Separation

≥50dB
 
File format support (USB/SD)

MP3 / WMA / WAV
 
Line input              

AUX / Optical / TV(ARC)
 
Max supported USB/SD memory size

128GB


BT Name

ZEB-BTM9800RUCF
 
BT version

5.0
 
Product Dimension (W x D x H)
21.5 x 36 x 107.7 cm (with amp)
21.5 x 34.5 x 107.7 cm (w/o amp)
 
Package Dimension (W x D X H)

52.4 x 42.6 x 115.8 cm
 
Net. Weight


 
(with amplifier)

16.5 kg
 
(w/o amplifier)

13.3 kg


Country of Origin

People's Republic of China


Package Contents




Tower Speaker

2 U


Remote

1 U


Wireless Mic

2 U


QR Code Guide
1 U


Input Cable


2 U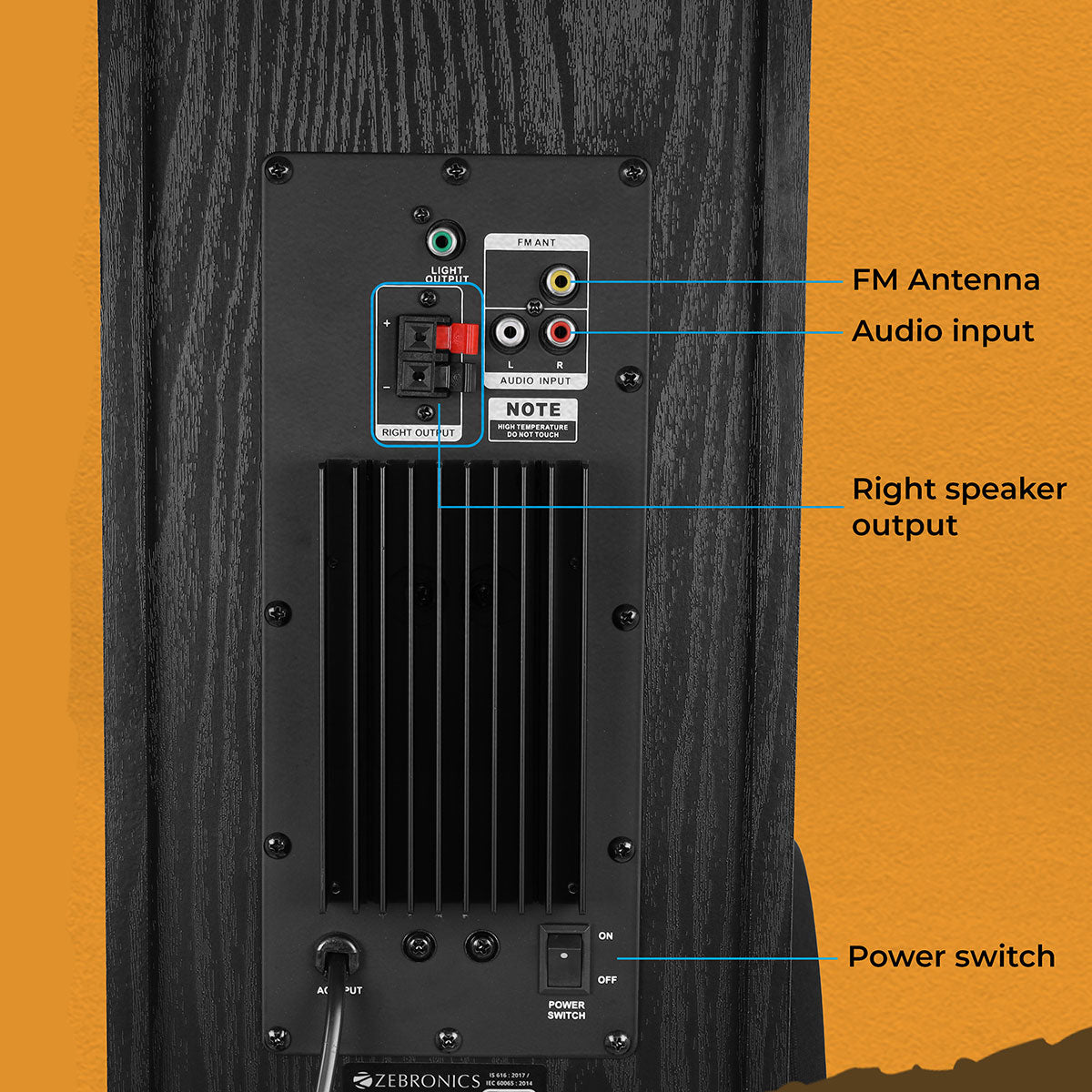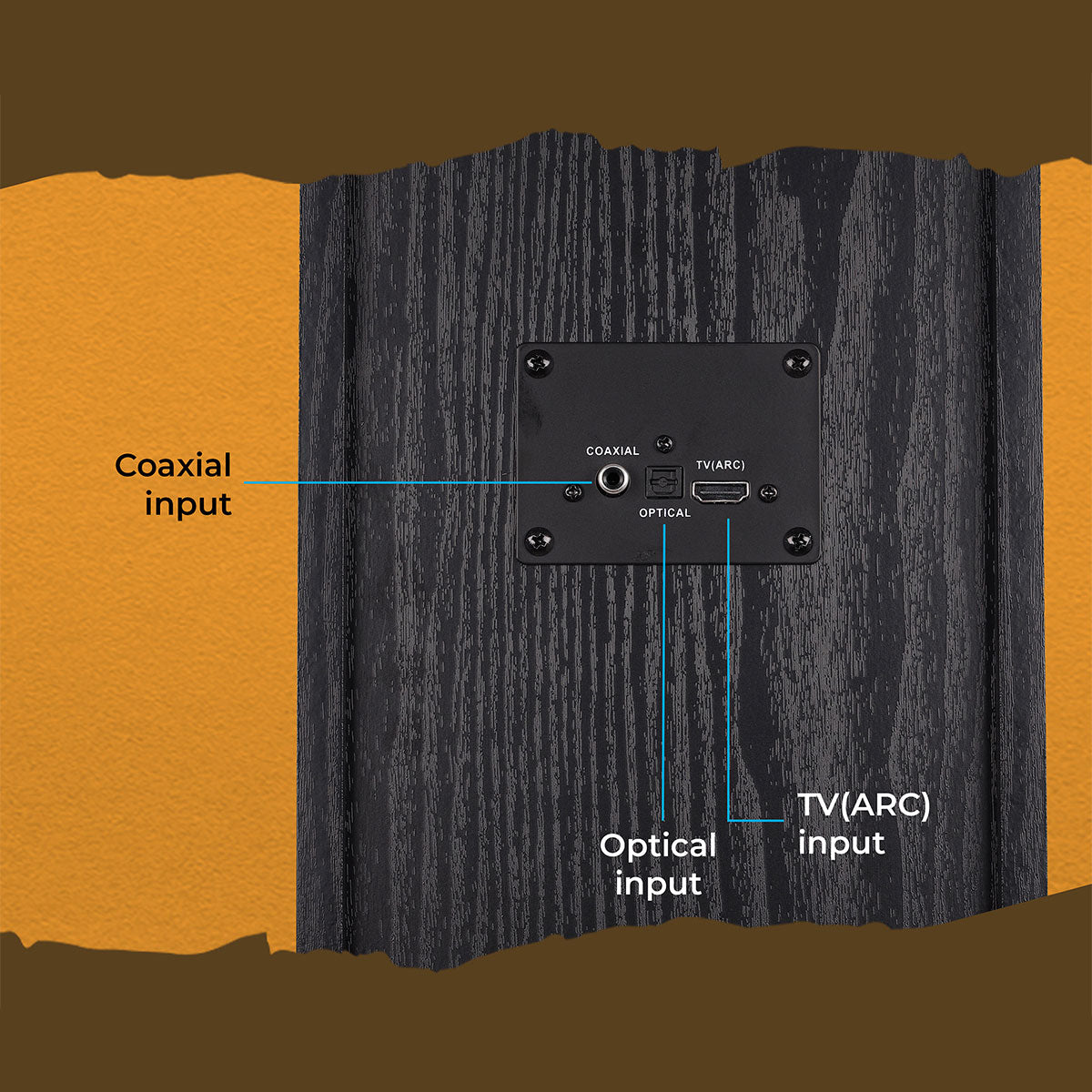 Sit back and enjoy phenomenal sound with ZEB-BTM9800RUCF tower speakers. Get yourself immersed in the sound stage while listening to your favorite music. Create a theater-like experience at home while watching movies. The speaker also comes with a wide variety of connectivity options.
Your favorite tower speaker now comes with TV(ARC) connectivity option for hassle-free connectivity with TVs. It also features other digital inputs like Optical and Coaxial. You can also wirelessly connect and stream music with BT. The USB and SD port can be used to play songs from pendrive and SD cards respectively. It also has aux input and a built-in FM radio as well.

ZEB-BTM9800RUCF comes with karaoke feature and dual wireless mics, sing like never before with the power of a tower speaker. Take your house parties to a whole new level with the fun of dual wireless mics. The speaker comes with dual 6.3mm wired mic input as well.
The tower speaker comes with a 3-way design that includes tweeters, mid range drivers and subwoofers to create a perfect symphony of all the audio frequencies.
Get powerful audio experience with dual 25.4cm subwoofers; get ready to add a thumping theater-like experience to your home. The tower speaker packs a punch when it comes to bass.


---
We Also Recommend
---